Peach DVD pre-sale campaign started!
Posted in
Production
by
Ton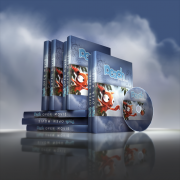 As for the previous Open Movie, we depend on your help to be able to realize this project! You can do that by purchasing the DVD edition of Peach in advance. Our target is to get at least 1000 DVDs sold before the start of the project, october 1st.
Everyone who orders and pays the DVD before october 1st will get a discount and his/her name credited in the movie credit roll!
On the Peach DVD (two disks) you will find:
The movie in best DVD quality widescreen format (versions in both NTSC and PAL)
The HD version of the movie (.avi and/or .mov)
Commentary tracks by the creators
All .blend files, models, textures, and so on… the material used to create the movie.
The original script, breakdown, storyboards
Documentation and video tutorials by the team members about all technical aspects the movie; like how to re-use assets, animate characters, or add new shots.
And all of that for just 29 EUR (35 USD)!
Based on feedback on the Elephants Dream DVD, I've also decided to not spend much time on a traditional Making Of Documentary, but instead focus much more on documenting the technical side, the creation process, and providing good(video) tutorials for artists.
Of course, consider this blog post as invitation to come with suggestions for valuable DVD extras.
Visit the Blender e-shop for ordering the DVD.
-Ton-