And while the artists were having fun…
Posted in
Production
by
Ton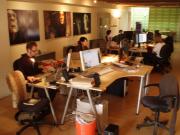 Last week the artists were mostly on the other side of the institute, the presentation/workshop room. That enabled Campbell, Brecht and me to break open the floor, remove all the old network cables, and create a 1 gig network with a dedicated cable for every workstation to the central switch, connected to the server. About 300 meters of cables was being added!

This fast network allows us to set up a flexible working environment, having all user accounts and home directories residing on the server, being nfs/samba linked to the local workstations. That way people can switch computers and still get the complete personally configured working environment.
Same concept is in use for other server-side directories, which are being linked to the workstations for binaries and random project files. And lastly we'll get svn running for the main Peach project database.
The server is being backupped every day to another disk, and that goes once a week to a firewire drive which gets locked safely.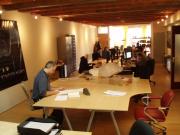 Currently we have six workstations, as being delivered by Maqina last week. Each system got Ubuntu installed, and has two Eizo monitors now even; a 24 inch widescreen, and a 20 inch regular screen. This gives our animators a whopping 3520×1200 pixel desktop. Quite large enough for the time being I'd think! In one or two weeks Maqina will bring us an additional two, entirely sponsored systems. These will be the real power beasts having 8 cores and more memory you can reasonably dream of!
Right now, monday, is the first 'normal' day at the institute. See the images! Seven people concentrated at their desks. Sacha is making the breakdown, Enrico is storyboarding, Campbell is coding some Blender goodies, Brecht works on the micropolygon render, Nathan is teaching William the latest rigging tricks, and Andy desperately tries to get his work for the conference ready in time.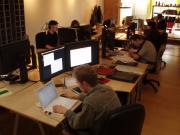 And me? I am going now to the office in the back, repairing the floor and painting walls!
Laters,
-Ton-