We're slowly getting there…
Posted in
Production
by
Sacha
A good story is no certainty for a good storyboard, and a good storyboard doesn't necessarily make a good animatic.
… a nice opening sentence for my very first blogpost here, but that's all the wisdom you'll get from me (we know that's not what I'm here for).
After a few weeks of storyboarding by me and Enrico, and making the animatic by William, we were able to watch the full animatic on last tuesday. Things look different when you see it in a different form, and the animatic is no exception. After watching and discussing the animatic it was clear there were 'some' issues, and the necessary solutions varied from better timing, slight adjustments and big changes. For me this meant back to the brainstorming and storyboarding… I skipped the writing (writing sucks). And some changes were made indeed. Oh yeah.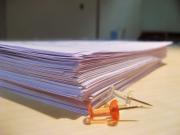 This photo shows some storyboard plates, around 175 of them. Some pretty good ones, and it'll be more later on. They're all rejected, taken out the last version of the storyboard. Though making changes is a lot of work, I'm getting more and more excited about the movie. Every phase shows new improvements, some small, some major. And do I see some twinkling in Andy's eyes when we're discussing the story? Hmm, perhaps because of some dark elements we're putting in the story. Anyways, it's clear we're aiming for a total fun-packed, fully wacky entertainment rollercoaster ride…. and we're slowly getting there.
Yesterday (friday) we had our first real weekly. 2 guys from Filmmore (a post production company, 10 seconds walk from the Blender Institute) came over to drink our beer and look at what we made so far. One of them worked at NaN, in the early days he was known as Zycho in the Blender community. Both are graduated from the Film Academy, and I guess that means something, right? Though we weren't able to show them all the new changes we made in the story, it was still helpful and refreshing to hear their opinion. We still have a lot of work to do, but this weekly made me feel we're absolutely on the right track.
Peach out,
Sacha