random environment, rodent & rabbit renders
Posted in
Development
,
Media Gallery
,
Production
by
andy

it's starting to get a little rough around here…
there are about 6 weeks of production time left. our fearless team of animators – sacha, william, nathan and our external keyframe shifters – are working hard to get the last couple of scenes of our movie animated. enrico and i am both working on "finals" – a little underated sounding description ton likes to give to the task of texturingmodelinglightingcompositinganddoeverythingelsetogetthemovierendered.
so as the animation department is churning out an average of 3 shots per day (of mindboggling quality), the finals output is ranging from 3 to 5 shots per day (of ~130 / 13 scenes overall / 9 minutes of movie). at this point everyone is already working crazy hours, so we apologize for not having a lot of time to post (quality) blog updates. but instead of just throwing a couple of rushed renders into the gallery and letting people figure our their context by themselves i would like to share some more information with you! :)
here are a couple of test renders from the environment that enrico worked on last week. it's coming along very well. both places are from the climax of the movie, there are no characters, no compositing and the lighting is probably going to change. in the first couple of weeks we only worked on creating a database of trees, plants, flowers, grass, props, textures, etc. to create the final scenes all these elements have to be assembled carefully. but also new elements have to be created, ground has to be textured, grass has to be mown… i'm really happy with the level of quality and detail so far. massive kudos to enrico for having all that patience, i would probably have gotten insane weeks ago UV unwrapping all these tree trunks and branches!
anyways, last week i managed to get another scene lit, materialized, composited… err… environmented (12 shots), here's a couple of still frames in crappy low quality.
all these take advantage of the latest developments by our brave code monkey team: super fast ambient occlusion, hair particles, dupli objects, (brecht) trees, renderfarm and computer wrangling, UV editor enhancements (campbell), zmask, super high quality fusion image sampling and weird confusing user interface (ton).
the render pipeline for these is pretty straight forward, the characters get rendered (and often lit) seperately from the environment. both output additional passes for alpha, depth, ambient occlusion, id numbers, etc. the elements are then combined in the blender compositor, color corrected and finally saved to openEXR format.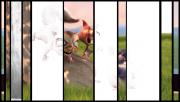 i made a little animation to visualize to show the various passes and effects, click the image on the right to watch the video in ogg format (youtube version coming up)
and to finally get things even: here is a less crappy (i hope) snap of the river shot.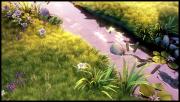 enjoy!
.andy
ps: i lost my coffee somewhere in the office, has anyone seen it?