Dolby mastering
Posted in
Media Gallery
,
Production
by
Ton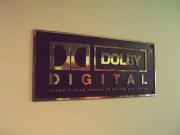 We wouldn't deserve the a score and soundtrack from Jan Morgenstern if we didn't have at least the 35mm film provided with official Dolby Digital (5.1) sound! Although this isn't really an "open standard", it at least does have an obvious quality benefit… not to forget that the only (free) alternative would be simply analog stereo (or in Jan's words: "it will sound like a crappy 70ies or 80ies movie then").
The process is as follows;
– Locate a studio that has an official license to master or mix Dolby Digital.
– Contact Dolby Labs and get a contract to have that studio do the mix and mastering
– For a short film (10 minutes) the license fee is 300 GBP (600 usd or so)
– Only after payment has been received, and contract signed, the studio gets permission to let you in!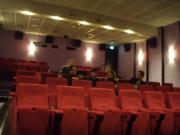 In Amsterdam there are four officially licensed studios. Those studios need to have a real theatre, complete with all seats, and a mixing table in the middle of the theatre. The concept is simple: mix the sound precisely as you want it to be heard in a cinema. The Dolby playback systems then can acoustically reproduce this experience in every Dolby Digital approved Cinema.
So! Yesterday we've spent two hours in the studio of Cinemeta Digital, listening with awe to the great soundtrack, and to what a good theatre setup (and editor!) is able to do with your perception of sound. It was also – again – so evident that sound is half the movie, and in our case also half the fun (at least!), the gags and jokes really work so much better. :)
Next deadline: tomorrow morning, 10am, all 14400 frames – converted to DPX files – on a portable disk at the Filmmore studio, for conversion (to DPX log) and then being shipped to the Nordisk lab in Norway, where the Cinevator real-time film printer is.