DVD & online release planning
Posted in
Blender Institute
,
Production
by
Ton
Now the first reports from the premiere get posted (check videos on Blendernation) almost everyone now is banging on o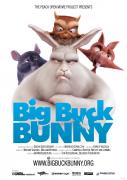 ur doors to get the film as well! So… here's some answers about what do now and what the intended schedule is.
People who pre-ordered the DVD were our investors!
This is an important aspect we should never forget. We were able to make BBB thanks to the generosity and confidence we received from people who ordered and paid for the DVD set. The deal we made was that they would get the dvds first, and only after that the files get released (which will go automatic, because the dvds are "CC-by", open content).
You can still help us by purchasing a DVD!
To be able to wrap up the project and continue work in the Blender Institute and get ready for a new open films we depend on DVD sales still. This is a special hint for everyone who's screaming for the downloads btw! :)
Reminder; what was Peach about again?
I cannot emphasize enough what this project is was about: to help improving Blender, to test an open source animation production pipeline, to share methods we used and what we've learned… the 10 minute film is only the cumulative result of that.
April 7- April 25: production period
We again will deliver a dual DVD set (PAL, NTSC), with not only the movie but also with extras such as interviews, outtakes, deleted scenes, animatics and commentary tracks.
On the DVD-ROM side you'll find the film and extras in various PC formats (ogg, avi, mov), including HD size. Further we are going to put the entire studio database on the disk, plus extras such as simplified BBB .blend files for feature demos (compo setups, fur, ..) and tutorials and documentation. In total it's going to be about 16 GB of data.
So we don't just slam the film on a disk and sell it, we really intend to give value for money here. :)
With Imagion, the producer who made the Blu-ray version of Elephants Dream, we'll cooperate on having a Blu-ray version of BBB too. This will only have limited extras (the ones we can deliver on HD too), but as best extra it'll have the Elephants Dream film on it too. Imagion will sponsor most of the production costs of the disk and makes copies available for us to sell in the e-shop.
(Yes I know Blu-ray is evil and has DRM built-in, but getting open content available on commercial formats is important).
The 35mm films get spread
Check the Events Calendar on this site, here we'll inform you about public screenings of the movie, festivals, and talks or presentations by Peach team members. We will make the 35 mm films available to theatres at no costs, apart from shipping expenses.
We've also offered the film to the Cannes festival… in the happy – but unlikely – case we get accepted, they'll demand the world premiere (outside of the Netherlands). Which is another reason why we've reluctantly scheduled public screenings this month.
Assuming it takes two weeks for the dvd printer, we can start shipping the dvds between May 10 and 15. Our express-mail service should then deliver it in europe within a week, and the rest of the world in two (USA, Australia) or maximum 3 weeks.
End of may: official launch
We are already working on getting extremely well prepared this time… two years ago with the first open movie launch, nearly every mirror we've used collapsed under the attention! So we'll approach providers who can handle giant amounts of traffic to help mirroring http downloads. Next to that we'll provide torrents, and youtube or vimeo versions of course. There's also a wide need for the original OpenEXR files, in 16 bits/component color, to be able to do colorgrading, codec tests, conversions, etc. That's about 80 GB, we still seek someone who dares to host this!
With Sacha Goedegebure I'll work on a feasible concept for a magazine style/sized full color "workbook" for BBB. Think of pages with plenty of tutorials, explanation of blend files, how to animate the bunny, artwork stages, the movie as comic, but also tech documentation for hair render design, tree generating. It would also fit well with the open project concept to end with a good final report describing results, and presenting it as an informative fun read for education purposes too. More news will follow…
This is the annual highlight of the international computer graphics community… and this time we have something to show them! I hope to be there with a big show, preferably in the middle of the tradeshow again. Second half May is deadline to decide on it…
Apricot game, Blender 2.5 and Durian

Not to forget: we have a great game project running here still that takes time and development power. After that I hope to get the third and very spectacular Durian film project started. However, Blender 2.5 should be in usable state before that…  no 2.5, no fun for me! :)
Thanks!
-Ton-