Woosh, the deadline passed! Or, how everything that can go wrong does…
Posted in
Production
by
Ton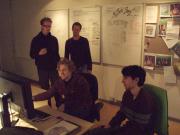 Momento; no worries! The master film+sound disks are ready, packed, sealed and were picked up by the courier. (All will be OK, airplane personnel strikes, bad weather alarms and Norway sliding into the Atlantic notwithstanding).
For your pleasure and probably to learn from (do we ever!) here's the disaster list of all that went wrong last night, causing Andy + Sacha + Campbell + Brecht to skip sleep…
Sun grid crash! Usually when a node goes down it ends our session, but it can take 3-5 hours to have it all running again.
The credits came back from the renderfarm with the default font, and adding the desired font didn't work anyway since we compiled blender without truetype font support. Converting it to vectors messed up a few character, so we ended up rendering the credits (2000+ frames with character animation) on our own systems.
So let's use our own studio computers to render last minute changes. But… the installation differs for systems, giving problems.
Then a bug in the new Approximate Ambient Occlusion appeared, but luckily fixed
And then the grass looked completely different compared to the Sun grid images… which appeared to be a different implementation of qsort() in Solaris!
Blender Sequencer was used to convert float OpenEXR images to 10 bits DPX. Unfortunately in some cases, on effect strips, the strip ignored the float images…
DPX converting started with image names saved with 4 digits. We have 14315 images to save…
Andy made a great advanced setup for last minute color grading in Compositor. It was far too slow to be useful, even though a promised patch was supposed to fix that. He could only do a couple of shots.
Our provider had nameserver issues, so we couldn't use svn.blender.org to update code.
Ooh, let's not forget the start title!
When we testing things yesterday, we forgot to write to the needed USB disk… which was saving very slow. Takes 4-5 hours to write everything, which we didn't have anymore.
Using our own backup disk, where all files were, was an option. Unfortunately it was formatted to be Linux-readable only…
Luckily at Filmmore – where the files were converted to log dpx for the film printer – they had Linux, but reading it all in would take about 2.5 hours. Just within the limits.
After it all was ready, we nearly missed (thanks Sacha!) the error of 40 black frames in the movie… caused by a bad symlink in our finals directory structure.
Dang, one shot is off with three frames… luckily there's no sfx in it, so hopefully nobody sees it.
And… after spending almost an hour on this blog post, I lost all text when I tried to save it to blender.org, who just decided to go into a "500 Internal server error".
Off we go!
-Ton-
(Image 1: how I found the four victim's this morning. Image 2: final check in Filmmore of the movie…)