Posted in
Blender Institute
,
Production
,
Random Fluff
by
andy
Wednesday, March 12th, 2008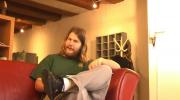 Recently I realized that we never really made a complete Blender Institute tour after this project started. Sure, there was Ton's first round trip waaaay back, but we needed something new, shiny and classy like this to show you how great this place actually is! Luckily Nathan, our master of rigging, animating and hugging, agreed to improvise a very sincere and pertinent guided VIP tour through the marvels of our beloved work- and living- space.
Welcome to the Blender Institute!