Posted in
Blender Institute
,
Production
by
Ton
Saturday, April 12th, 2008
Now the first reports from the premiere get posted (check videos on Blendernation) almost everyone now is banging on o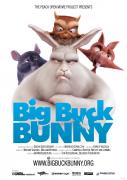 ur doors to get the film as well! So… here's some answers about what do now and what the intended schedule is.
People who pre-ordered the DVD were our investors!
This is an important aspect we should never forget. We were able to make BBB thanks to the generosity and confidence we received from people who ordered and paid for the DVD set. The deal we made was that they would get the dvds first, and only after that the files get released (which will go automatic, because the dvds are "CC-by", open content).
You can still help us by purchasing a DVD!
To be able to wrap up the project and continue work in the Blender Institute and get ready for a new open films we depend on DVD sales still. This is a special hint for everyone who's screaming for the downloads btw! :)