Peach workshop started
Posted in
Production
by
Ton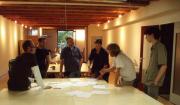 The five Peach artists and one of the developers have arrived in Amsterdam for a week of preproduction work in Amsterdam. (We're almost complete, only Campbell still is crock hunting in Northern Australia!). In this picture you can see Andy, Lyubomir, Enrico, Sacha, Nathan and Brecht discussing story concept drawings. Also check the media gallery for more shots of the team. If you watch closely you can even notice already where our concept is heading at…
The first day we spent mostly on the concept and script, presented by Sacha. We all really like his work sofar, it is going to be extremely funny! Well… we have to prove that of course. :) The script itself is going to become a full breakdown by friday, and then also sent to a couple of script advisors for feedback and help (please do not beg for it, we've already selected a nice range of people inside and outside of the Blender community). In the course of this week we will reveil more snippets of our work.
During Siggraph I've had contact with a couple of people with a broad experience in 3d animation/cartoon film. Two of them will be contacted to come over to Amsterdam to help us in early october (storyboard, timing/staging) and after 2-3 months (final character animation reviews).
Yesterday evening we went to the mother of all furry-rodent movies; Ratatouille. Incredible this quality! But… strangely enough nobody felt really intimidated or nervous about matching this quality, or even do better (well Nathan promised he'll try!).
Today is creative's day… doing designs, check on character concepts, environments (we need a forest!) and styling. We've got a load of dvd movies to check on, and will end today with nitpicking other movie styles and try to find out how they did things…
Later more!
-Ton-