Workshop With Arno
Posted in
Production
by
andy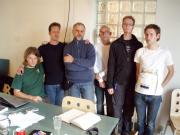 Yo yo yo! Wuz up in da hood, dawgz! We been kajizzling some story/animation dope, yo. Our bro Arno been schoolin' us some badass ropes 'bout da preproduction and da storyboardin' and da… t.i.m.i.n.g'! Weez gonna lay down some awesome animation beatz, homies.
Dis da program, yo:
visual storytelling
day 1 – basics of visual storytelling
Introductions
Elements of the story, basic structure, the three acts
Showing versus telling
Story hook(s) and story beats
Comedy devices
Exercises: take your favorite story and analyze it in the terms presented today. write a short 3 act story.
day 2 – storyboarding, workbook and animatic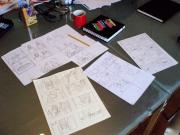 Aspect ratios
Thumbnails
Rough or tight boards?
Drawing for storyboarding
Storyboard formats and templates
Storyboard labeling conventions
Storyboarding and technology
Building the animatic
Temporary (or final) sound
Emotional intensity charts
Checklist
Exercises: reverse storyboard a short movie (watch the movie and storyboard it back), storyboard a scene of the story you wrote on the first day.
day 3 – scene planning, camera and layout
Scene/Shot Analysis
Visual elements (lines, shapes, contrast, texture, patterns)
Framing, movement and meaning
Use and misuse of balance
Perspective
Planning for Color and Lighting
The ten zones of exposure
Elements of Spatial and Temporal Continuity
Camera moves
Scene planning and layout checklist
Shot list and naming conventions
Exercises: take turns being the director and the storyboard artist using the story you wrote on day one.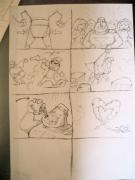 day 4 – principles of animation
Classical techniques for modern animators
The 12 basic principles of animation
Weight and moving weight
(Moving) holds
Emphasis
Flexibility and fluid joint movement
Walk and run cycles
Silhouetting
Eye movements
Exercises: watch cartoons and draw the key extreme poses and analyze the staging
day 5 – animation in action, acting for animators
Types of characters / Types of people
Classic (Cartoon) comedy character types
The Characters in the story
Character profiles worksheets
Silhouetting, posing
Timing Charts
X-sheets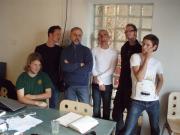 Animating in 3D, keyposes, stepped poses, refining and in-betweening
Exercises: take a shot from Peach and act it out and transcribe the timing using the tools covered during the session.
Peach Out!