Caffè for Peach!
Posted in
Blender Institute
by
Ton
Prologue
Italy, September 2007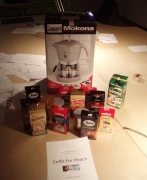 After a lengthy discussion on kino3d.com, the Italian Blender community sends a "suggestion to fix Blender's arealights" to the Peach Team, thanks to their double agent codenamed "Env".
Blender Institute, a couple of days later
The Peach Team answers: "and in return the Italian community starts a fund raiser to get us an espresso machine?"
Two months later
The postman rings at the door at the Blender Institute, delivering a giant box. "Great, Sinterklaas is early this year" Ton thinks… but when he opens the box he's totally surprised seeing the package contents. A genuine original italian design espresso machine! Everyone runs to the kitchen to get Enrico demoing how to make real espresso. "The first 10 cups will taste horrible" Enrico knows. But we're used to horrible coffee anyway… so there we go… and even though we have to learn when to press the stop button in time, it's already awesome coffee!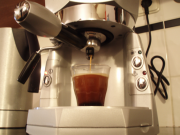 But… oops! Where is the arealamp feature? No feature, no caffè… and that caffè is tasting damn good! So…lets find where that code is… back later!
-Ton-
(Thanks anfeo, bullx, Chrysophylax, deskplus, e-falcon, fabrixxm, Gillan, hdd, ingoenius, IzE_Design, jazzroy, kino, lozetta, lsscpp, MArco, marioamb, Nono_Nano, pKrime, renderdemon, Rickyx, Stefano, the_nis, Tpor, UncleZeiv, Yota_VGA!)