Nathan demos rigging 'Rinky' the Squirrel
Posted in
Development
,
Media Gallery
,
Production
by
campbell
It's magic to watch Nathan (aka Cessen) rig the 3d characters.
He uses various methods, depending on the kind of movements we want them to make and their body type.
Brecht, Ton and Joshua Leung (from New Zealand) have been writing features and addressing bugs Nathan found… These will get their own blog post soon!
Nathan can't hold back a hug when us TDs code an especially useful feature :)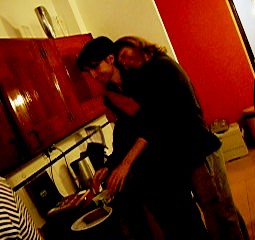 For a look into the rigging process, watch Nathan demo the rig for 'Rinky' the squirrel.