fluffy puffy peach posters
Posted in
Media Gallery
,
Production
by
andy
hi there!
well here i am again, and the characters are finally completed! as a peachy xmas holiday present we decided to publish some posters / wallpapers to decorate your desktop!




some geeky details: the characters were rendered in super high bunny sized resolution. the rodents each have around 2 million hairs, rendering them took 4 minutes. the bunny has 2.5 million hair strands, rendering time was 2 minutes. blender internal renderer, 8 cpu cores, 8 gigs of memory, 13 cups of coffee. you can see them here in all their high res glory!
BAD BOYS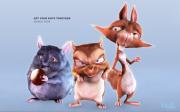 BUNNY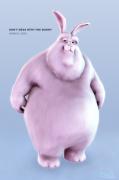 happy holidays (for those who actually have holidays) and season's greetings from the entire peach team… hope you enjoy!
.andy