Maqina Workstations & Benchmarks
Posted in
Blender Institute
,
Development
by
campbell
So far our workstations haven't been mentioned much, partly because it's not as fun as furry animals but also because they don't break down!
Now the artists are working hard and don't want to "waste time" blogging, I'll go into some details about our workstations.
Hardware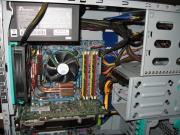 At the moment we have 8 workstations…
5x Maqina C6850DC 3D Blender Workstation's
(Dual Core 3ghz, 4gig ram, GeForce 8800 GTS)

2x Maqina X5130DC Workstation's
(Quad Core 2ghz, 4gig ram, NVidia Quadro FX 1700)

1x Maqina X5345QC Workstation
(8 Core 2.33ghz, 8gig ram, NVidia Quadro FX 1700)
The first thing we noticed when setting up the computers was how quiet they are; personally I find the constant noise of fans a real distraction. The second test was compiling blender. The X5130DC (4 Core) system did in around 1min 40sec, especially nice for Brecht who is used to a PowerPC Mac that takes over an hour. The monitors we use are excellent, very crisp and have a good color range for LCD's. You might have noticed most of us use 2, which wasn't hard to setup with nvidia's tools, however getting the wacom tablets to work on the correct screen was tricky.
Maqina is interested in feedback from us about how their systems work, as well as testing different components.
The problem is we didn't have a nice way to benchmark blender.
To test new systems I made a basic benchmark utility that runs some automated tasks to measure CPU and 3D performance, and at the moment it tests opengl redrawing, texture loading, and basic rendering.
Benchmark Scores
Maqina C6850DC – gl : 50.7831 fps, render : 6.02 sec @ 1600×1200 (details)
Maqina X5130DC – gl : 35.3917 fps, render : 6.25 sec @ 1600×1200 (details)
Maqina X5345QC – gl : 46.9200 fps, render : 2.51 sec @ 1600×1200 (details)
Andy also ran the test on his laptop (Acer Aspire 5650, intel centrino duo 1.66 ghz, 1gig ram, ubuntu 7.10 gutsy 32bit)
gl : 11.7043 fps, render : 28.99 sec @ 1280×800 (details)
To run the benchmark on your own system you'll need a recent build of blender, Windows users can download a build from here.
Download benchmark.blend and run the script on the lower half of the screen (Alt+P), get a cup of tea and the results will display in the top area.
Feel free to post your system details and results here ;)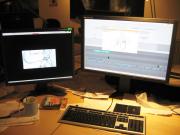 Software

All the systems run a standard 64bit Ubuntu Gutsy 7.10 desktop. Users can log in at any PC with their own desktop and preferences that are stored on the server (using NIS and NFS).
The gigabit network can transfer 60-100meg per second, so storing everyones home directories isn't too slow and makes backing up their files easy.
For Blender everyone uses the development SVN repository because so many things they need have been added since 2.45 release.
Each person compiles his own Blender (updated every day or so). This means we can investigate crashes and always be sure the source code matches the executable to find the line that crashed.
Everyone has icons on there desktop for running an optimized and debug blender, compiling new builds from svn and cleaning for a full rebuild.
As far as I know this is the first serious project to use blender compiled in 64bits since blender was open sourced, and surprisingly we haven't had any 64bit specific bugs.
This is really important for us because we need to be able to use more then 2gig of ram when rendering (a limit for 32bit systems).
Of course it's not all smooth sailing, we have some glitches from time to time. Closing firefox with youtube open will sometimes hang the flash plugin, and occasionally gnome won't start properly (known bug) unless temp files are removed.
If there's anything else you're interested in related to the systems I'll reply here.