Project Peach is Pretty Proud to Present…
Posted in
Production
by
Sacha
Today is the day we will officially say goodbye to the work title 'a Rabbit's Revenge'.
The title of the Peach Open Movie is: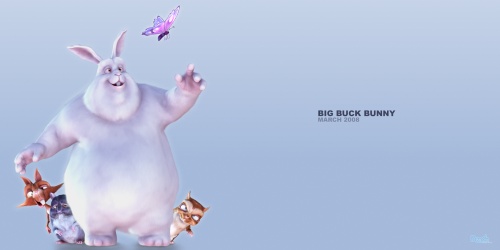 (click for 1920×960 version)
So no 'Rabbitouilli' (legal issues), 'Rabbitribution' (unpronouncable) or 'The Butterfly Effect III' (yes, there already is a sequel).
A little explanation about the title Big Buck Bunny:
'Big' because the main character isn't small.
'Buck' is the term for a male rabbit. It's also the name of a movie character played by an actor we used as a reference.
'Bunny' because…. ah, I'm not gonna explain that.
Sacha