Newspaper clippings
Posted in
Blender Institute
,
Production
by
Ton
Here's the first major newspaper article about the premiere. It's the #1 newspaper here in Amsterdam, with mostly Amsterdam related topics. You can find most of this also on their website here:
"Big Buck schudt filmwereld op"
("Big Buck shakes the movie world")
The images:
First clipping is from page 8, right-bottom corner.
Second clipping is in the weekend supplement.
Note that they consider the "gratis" aspect most interesting! But, the "free software" concept is pretty well covered in the text.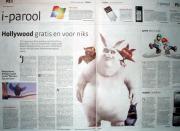 Other news: currently the dvds are being authored… end of april it should be at the printer's still. Expected release is May 15. But… you know how it goes when you announce dates! Let's try at least. ;)
-Ton-