Blu-ray version!
Posted in
Blender Institute
,
Production
by
Ton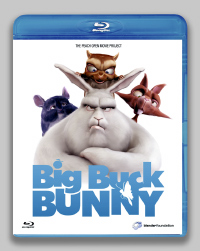 News from Germany: authoring company Imagion completed work on the Blu-ray version of Big Buck Bunny! They've created a stunning HDTV (1080p 24fps) version of our movie based on the original HDR frames of the movie. The master has been sent to the factory for duplication last friday. This will take about 4 weeks, so we expect the discs here end of july. Visit the Blender e-shop to purchase a copy!
Although it's a closed format still, Blu-ray is most likely going to be the HDTV film disc format of the next decade. So, even when it was only for archiving reasons, it's important to have BBB on this format available as well. Not to mention that the HD version of BBB is simply breathtaking to watch.
As bonus, apart from the extras copied from the video dvd, Imagion agreed to add Elephants Dream on the disc as well!
-Ton-