Singapore, CGOverdrive and 3dsense
Posted in
Events
,
Random Fluff
by
Sacha
How 1 week in Singapore can change one's ideas, goals and direction in life…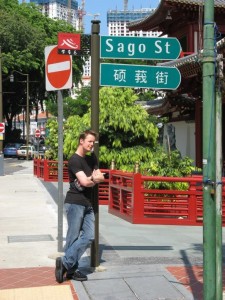 It was June 15 I took a 12 hour flight to Singapore, to attend CGOverdrive 2008 as keynote speaker and representer of BBB and Blender. And I can say that my first trip to Asia is one that will be hard to forget.
Stepping out of the plane started with a nice smack-in-the-face temperature, something that didn't seem to get less during the late hours. The evening of that first day me and 2 other speakers were invited to a lovely welcomes diner with people from 3dsense media school (supporters of cgoverdrive) and other people from the organisation. It was a surprise to hear how much they thought of Blender and BBB, and it inspired me to finish up my keynote that night.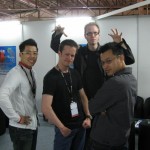 The next day I arrived early enough at the expo hall to get myself and my laptop plugged in, but unfortunately after even 3 hours of struggling we couldn't get my monitor to work correctly on the big screen. Some issue with Linux, Nvidia and a cable that's too long… I dunno. Even Andy, who arrived a day later in Singapore, couldn't get things to work the last hour. But to the rescue came audience member Victor Yap, Blender user and organisor of Blender Birds of a Feather at Siggraph Asia 2008. When I was announced we were still busy transfering and checking my files on his laptop. Not the best start for a first keynote, but it worked.
My keynote talk was about the world of open source and open content, with Blender, the Blender Institute and BBB as my main examples. Showing BBB definitely gave it a good start. During the Q&A it became clear that alot of people had a hard time understanding that everthing was done in Blender (a free program?!), plus the open content aspect. Hopefully with my keynote I was able to give a nice introduction.
The attention I got after my keynote was something that surprised me the most. Visitors asking for autographs and asking to be on photo with me… hey, I'm not complaining.
The last day of CGOverdrive ended with a 'making of BBB' from me and Andy; a 'Blender sandwich', how the presenter called it. This time having a more relaxed preparation (as in Andy did all the preparation), we had no problem filling the complete 2 hours. It was like bringing back old memories with Andy, something I enjoyed thoroughly. We ended the Q&A by giving away a few BBB dvd's, just by having the audience members answer a few simple questions (last one was a toughy though; they had to pronounce my last name correctly).
The same evening and the day after me and Andy experienced Singapore in an unforgettably way. All this thanks to Victor and his family, who showed us around and treated us with a warm-hearted Singapore hospitality. And what to say about Singapore? Everything is amazing; the food, the buildings, the people, the way people with different background and religion live together… and don't get me started about the women there.
The evening poor Andy had to leave, I was invited to a diner party with the 3dsense team (some of the people being from 3dsense China). A small but great group of people, with a strong passion for what they're doing. That evening wasn't too bad either…. okay, it was awesome.
The day I had to leave I visited Raffles Design Institute. Teacher and Blender user Jorge Otero invited me over to show BBB to a small group of students. Seeing I'm from schools with the same kind of creative background, I was very keen to take a quick look at the place. A short but fun experience.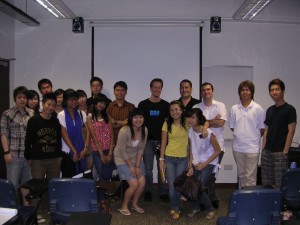 ..
.
Before I end this neverending blogpost, I would like to say something about the day before I left. Sen and Justin from 3dsense invited me to take a look at their small school (a few classrooms in a shopping mall), and after that the place they'll be moving to very soon (2nd floor of a very nice building). There's still alot of work to do, but it's clear the place is going to look great.
And the reason I mention all this? If everything goes as planned I'll be joining the 3dsense team beginning of August. Sen offered me a job as lecturer, and to join a small group of passionate people with great goals and plans, is something I just cannot say no to. Mention worthy is that they also have plans to work more with open source and, of course, Blender.
Thank you 3dsense, cgoverdrive organisation and speakers, Victor and family, Jorge, and not to forget Andy for a great time. Singapore is awesome, and I can't wait to get back.
Love y'all,
Sacha