A Rabbit's Revenge
Posted in
Production
by
William
So, the dust has settled, and the 2007 Blender conference is over. This year the conference was moved to a newer, more modern venue and featured loads of announcements, heaps of great artwork, and a diverse crowd from all imaginable fields and backgrounds. We had a presentation sunday morning with Nathan in a bunny suit (!) announcing the following:
The working title is now A Rabbit's Revenge.
In terms of length, we're looking at

7 minutes

(give or take a minute or so)
We have four characters: a rabbit, two squirrels and a chinchilla.
We revealed the plot outline, which is as follows:
A giant rabbit that's being bullied by 3 rascal rodents, tries to get even big time.
Character designs are well underway, and here's a little something to tease you: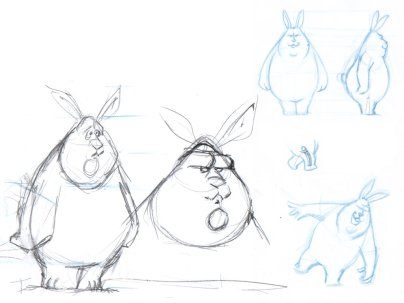 Stay tuned for more!