Physics Sprint Results
Posted in
Blender Institute
,
Development
by
campbell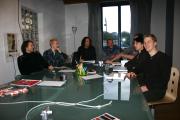 Just before the blender conference, the physics developers got together at the at the blender institute to discuss how different physics systems can play better together and share more code.
Daniel Genrich – Cloth
Jens Ole Wund – Softbodies
Nils Tuery – Fluid
Janne Karhu – Particles
Brecht van Lommel, Ton Roosendaal and myself (Campbell Barton) needed to see what was common between the different physics solvers to make into generic functions. We also had to make a short term plan for the peach project.
By the end of the 2 days we agree'd on the underling API as well as new features needed to improve blenders work flow.
A big incentive for this is the need for hair/fur from Janne's excellent particles branch (not yet included in blender).
Highlights…
Fast Playback; Automatic caching for physics solvers, transparent to the user with no need for the Bake button.
Editable Bakes; When the physics are generated, you can bake the results to a sequence of editable keyframes, similar to shapekeys, applied in the modifier stack to allow non destructive hand editing.
Unified collision detection; All physics systems can make use of this. At the moment each system does its own.
Janne's Particles in Blender; Hair you can edit by hand, comb and cut, to name just a few of the features.
For details see the sprint meeting outcome on the Development Wiki