Still so many minutes left to animate
Posted in
Media Gallery
,
Production
by
Margreet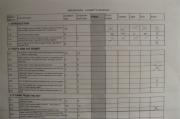 Besides animating there are more things to do, like composting, lighting, the environment. Ton and Sacha made a schedule from the breakdown to have an overview of all the actions. What you see here is only 1 page. There are 7 pages like this which in the end all need to be checked off. No finals yet, but come back soon for more detailed information!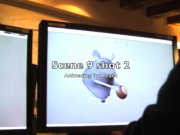 In this blog post also a short reproduction of the animating. William is animating 1 shot of 2.375 seconds. He has been busy with that for at least one day. One day within the Peachteam exists at least out of 10 working hours or even more. The script is divided in several scenes. Each scene is a certain amount of seconds. In the overview you can see how many animation seconds a shot has (not even counting prop animation!)
They are working on it!
Download the .ogg file here.