The use of violence in open source productions
Posted in
Events
,
Random Fluff
by
Sacha
The day after the BBB premiere Ton was a member of a panel at a conference called 'Economies of the Commons', where topics as 'financing open source and open content projects' were discussed. Before the panel started Ton gave a presentation during which he also showed material from BBB. During the panel discussion there was a question from an audience member for Ton.
Taken from here:
The last major topic that was raised concerned the narrative of the Big Buck Bunny film, just released by Blender. Anthony McCan asked why open source productions can't steer clear from the use of violence, as violence evokes violence. Ton Roosendaal replied that this was the best way to show the technical abilities capable by the Blender rendering software and that creative freedom in the way these technological abilities are displayed is highly regarded.
While I was listening to this on some audiostream, I understood this audience member had a North Irish background and witnessed a lot of violence in his life. I believe he just wondered if the ethical question about using violence in projects made for an entire community was raised.
Unfortunately the text above mixed up Ton's reply; it almost seems like he encourages violence! His real answer was of course that the development of Blender comes first. And in order to make a project like this work, the best artists of the community are invited and are given this creative freedom.
Growing up in a world of violence is not a joke, but what worries me the most is that some people from this world are unable to distinguish real violence from the cartoony violence we know from Looney tunes and Tom and Jerry… and soon from BBB.
Peace,
Sacha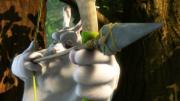 Violence in Big Buck Bunny? I have no idea what you're talking about…