BBB at CG Overdrive
Posted in
Events
by
Sacha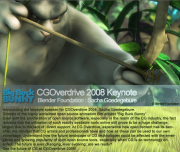 One of the benefits of being one of the creators of an open movie like BBB, is that you get to show it in different places all over the world. And that's exactly what we want, Blender worldwide.
One event I'm extremely happy about is CG Overdrive in Singapore, Asia's biggest Computer Graphics conference (some of you might have already read about it on BlenderNation).
Both me and Andy will give a 'making of Big Buck Bunny' presentation, and I myself am honored of being this year's keynote speaker. As a comparison, last year's keynote speaker was Mr Shinji Hashimoto, a producer from Square Enix. So I'm not exaggerating when I say I'm extremely honored. The topic of my keynote will be 'the world of open source and open content', something I've been getting a bit more familiar with in the last half year.
For more information check out the site of CG Overdrive, you'll see what they mean with 'Biggest'. Also check out the site of 3dsense Media School, which supports this amazing event. I wonder if they have a job opening left?
So if you happen to be in Singapore from 17 – 20 June, be sure to drop by. But don't forget to wear a Blender t-shirt!
Peach out,
Sacha