Siggraph Los Angeles report
Posted in
Blogroll
,
Events
,
Peach Press
by
Ton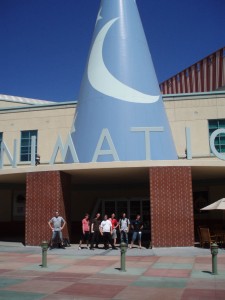 Friday August 8th: Disney visit
Thanks to our good friend & animation consultant & trainer Arno Kroner we had a great afternoon at the Disney Animation studios; the original place were animation got about invented (well, perfected :)!
There was a screening arranged in the main viewing room, and quickly after 12 PM the room quickly filled with about 70-80 people. After showing BBB (people laughed!) we did a 40 minute making-of presentation, especially showing Blender animation & compositing and the cool fact a single .blend file could manage and collect all the data for an entire movie shot.
After the presentation we went for lunch and a tour around the premises. Unfortunately the studios were forbidden for us… would have loved to pick the brains of developers about Bolt's forest rendering methods. But, I did see the office of John Lassiter!
Sunday August 10th: Siggraph Sandbox demos

The weekend before siggraph, there were several pre-conference events. The "Sandbox" is a couple of seminars devoted to 3d games development. As the closing event, sunday 6-8.30 PM, we were scheduled to demo Blender, while the audience wandered around getting food and drinks. Our "Yofrankie" demo attracted quite some attention, mostly because of the fact it was all running inside of a 3D tool – something we blenderheads are used to already for a decade, but it keeps giving surprised reactions ('why didn't anyone think of it before').
Monday August 11th: Birds of a Feather meetings

All afternoon, from 2 to 6.30 PM, we had a 80 seat conference room filled with peo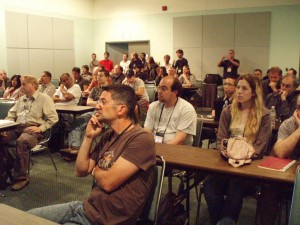 ple interested in Blender's progress. As scheduled there were three sessions:
Blender Foundation Community meeting: as usual, an overview of past year's activities and plans for next year. Thanks to the Apricot team I had a great Blender GE "powerpoint slide" presentation (download here, 38 MB). The obvious question was about Blender 2.50 scheduling, which was actually already announced on the previous siggraph! Well… Siggraph 2009 will learn us more! :)
Among the visitors were people from NASA, Lockheed and IMAX!
Apricot project and Blender GE meeting: to our surprise the room flooded for this talk, ending with a dozen people sitting on the floor even. Interest in this revived part of Blender is tremendous!
Art showcase and Peach team 'making of': several people took the opportunity to show their work, varying from a Wii remote controlling Blender to showing animation and artwork. The last hour the BBB team did a making-of talk.
Tuesday August 12- thursday 14: HP Booth demos, tradeshow

We had one of the four demo systems at the HP for Blender demos. There were two high quality printers on the booth, which we could use to showcase color-calibrated artwork printing. Even though there was no big sign with our name we attracted plenty of visitors with our demos. Not to mention BBB looked awesome on their display and prints!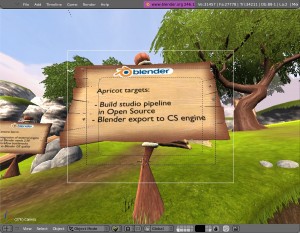 The trade show itself was huge again, probably a bit larger than past 2 years. Several 3d software companies were not present though (Houdini, Hash, Quest3d, Massive …), Lightwave had a not-so-well-visited booth in a corner, Apple didn't show up. Maya/3DMax clearly dominate the show, with XSI being the #1 competitor (and amazing demos of their new "ICE" node system). I visited ATI to get info about the status of their drivers (short answer: they advise to buy Radeon if you only want to play games, for quality you need the FireGL series). It was interesting to see how rendering on GPUs becomes more interesting; AMD+ATI merged (they didn't reveil any plan, but hinted at something integrated next year) and how Nvidia+Mental Images showed a new shader language (one of their main devs is Jan Walter, former Blender coder!).
Tuesday August 12: Lunch at Dreamwork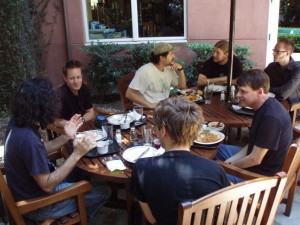 Unfortunately the screening room got booked by a dreamworks exec, but we still had a great lunch time with Anthony Zierhut (storyboards Shrek4) and Sebastien Chort (lighting artist KF Panda). The tour over the premises was just awesome. It's built very spacious with lush gardens, ping pong tables, game room and a giant restaurant with everything freely available (I want those ice cream machines!). Dreamworks definitely takes care very well for their people. Of course we tried to pick their brains as much as possible about what and how they do it there.
Wednesday August 13, Animation Festival "Making of BBB Panel".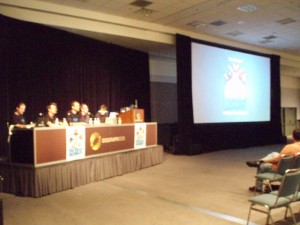 One more highlight: in a hall with 900 seats we did a 90 minute making-of show. Again it was very cool to see how we could show – on a laptop! – large parts of the creation process.
After the presentation a lot of people contacted us, including studios who want to switch now (especially interested in mixed pipelines of Maya or 3Dmax with Blender). And we were contacted by producers with big bags of money who want to have movies… eek!
Wednesday August 13, Screening and presentation at Rhythm & Hues
As last of the studio tours, we were invited by Blender fan and R&H compositing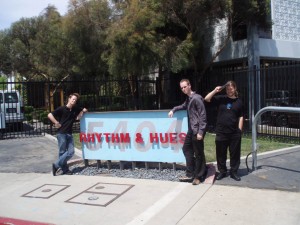 artist Sean Kennedy and toured around by Scot Byrd. This screening and Q&A went very much into detail, there was a lot of interest in our project by the artists. We also got a real tour in the studios and offices themselves, with demo of their in-house animation/compositing tools. They are clearly fighting with space there, people sitting row at row in large rooms, using every available inch as office space. Nevertheless, great quality work there!
Thursday August 14, closing party
After the horrible closing reception in the Dogers stadium (yes, they spent all our money on gruesome fat food and tickets for a baseball game) we went back to Figueroa, our favorite hangout. After closing time Bassam and me suddenly found ourselves on a private party in a loft featuring no-one less than Ken Perlin, Jos Stam and Jim Blinn! I had a great time chatting with Maya chief-scientist Jos (yep in dutch!).
Still waiting for pictures of the party… stay tuned!
-Ton-