"Gosh, that we can do this too!"
Posted in
Events
,
Media Gallery
,
Peach Press
,
Uncategorized
by
Ton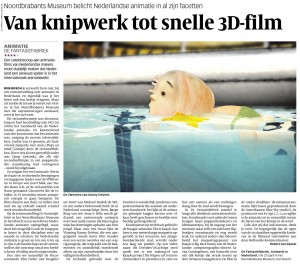 The Noordbrabants Museum, one of the main modern art museums in southern Netherlands, opened recently an exhibit "Fantasy Factory", where BBB has a permanent display. This morning, the Dutch national news paper Volkskrant posted a positive review on this exhibit, ending with some words about BBB. Freely translated:
"From paper cutting to fast 3D-film"
"Radically different than for example the model-handicraft from van Kaayk, is Big Buck Bunny from the Netherlands computer graphics teacher Sacha Goedegebure, a comedy about a fat rabbit taking revenge on three irritating rodents. The film – in the fastest imaginable 3D computer animation – almost seems like being produced by Blue Sky studios, the producer of Ice Age 1-2-3, so natural and precise as the rabbit hairs wave in the wind.
Gosh, that we can do this too, you then think a while. And understandable that the eyes of the kids hanging in the beanbags of the theatre are glued on this Dutch rabbit humour."
Ain't this a fun review! :) Kudos to all who made BBB of course, it's certainly not just a Dutch film… but we knew that!
-Ton-