Posted in
Production
by
Ton
Thursday, August 30th, 2007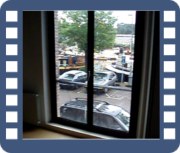 Time keeps flying, and then it's suddenly thursday… and still no workshop overview post! Of course I blame this to Andy and Bassam, who are distracting me in the offices while working on recording their training video (dvd) project. You don't want to know how difficult it is get video/audio recorded and edited in Open Source… but that's for another time to complain!
The workshop week has resulted in a lot of useful material. I've got many pages of notes here to work out still… about the script, Blender features, the studio pipeline and the production planning. All of this will become separate pages (and blog posts here) during the next few days.
A couple of real news items I do want to discuss right now though.