Posted in
Blender Institute
,
Random Fluff
by
Ton
Monday, December 31st, 2007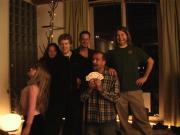 I've been teaching the guys and girls here how to play the renowned Dutch student card game "Toepen", which doesn't have winners, but only losers. Obviously – since it's a student game – the loser has to get everyone drinks. Here in the institute we have free drinks, so we made up penalties for each round… and I've lost the round with as a penalty to make a blog post with a silly picture!
So here it is; the New Years Eve crew (minus Andy who takes the picture, and Enrico + William + Brecht who celebrate it at home) and with Campbell's girls Cathy and India. On behalf of everyone: happy new year and let's make it a great 2008!
-Ton-