Posted in
Blender Institute
,
Events
,
Random Fluff
by
Ton
Friday, May 30th, 2008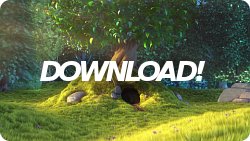 We've collected several mirrors worldwide for a stable and – hopefully fast – hosting of the BBB movies. You can download the files in four different flavours, which will nicely work for all common video players and OSes.
The download section also has Vimeo and Youtube links for streaming video.
Lastly, mirrors with the DVD ROM studio files are also being added now!
Have fun watching! And, thanks again for the great feedback and ongoing support. It has been a great ride for everyone here, and I definitely look forward to the next open movie… which – as promised – will not start before the Blender 2.5 project is in usable state. Most likely that's end of 2008, early 2009.
Lastly: don't stop buying the DVD! Revenues will be used as startup financing for the next Open Movie, and hopefully I can afford to send the full Peach team to Siggraph…
-Ton-