Posted in
Development
,
Production
by
Enrico
Monday, October 29th, 2007
Heya guys! So this is my first post on the Peach blog, gh!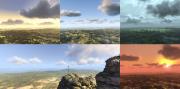 We are working hard to define the last version of the story by the animatic now, while the coders are refining great new features to be used in the movie.
Btw, Brecht, Ton and Campbell are too busy with a lot of new stuff at the moment and they have a priority list to work on, and because we could need volumetric clouds and realistic sky generation for a few shots, this post is meant as a call for help by external coders who can offer a good code for this.
Keep in mind that this is not a priority for Peach, we could easily (and probably better) do beautiful sky and clouds by matte painting; but since in this moment we have the occasion to add new features to Blender, why don't have a try?
Here are a few images of the "MakeCloud macros" for Pov-Ray made by Gilles Tran, released under a Creative Commons License; they make a very good example of what we are looking for in terms of the visual quality:
Volumetric clouds would be nice, of course, but every other code that can give such good results is welcome. And, besides the clouds, we are expecially looking for sky color gradients simulating light at different moment of the day.
So, come on! You could have the opportunity to be in the movie credit list as coder for amazing stuff, and also to have the eternal gratitude of all the blenderheads around the world. If this is your case, just post here and someone will get in touch with you. Gh!
The grey-haired guy